Its been too long since our last update and Freddie is growing heaps!!
Freddie is officially 5 months old today, don't ask me where the last 5 months have gone!! He is now eating solid foods twice a day, he is a big fan of apple and pumpkin and is not so keen on broccoli. He can also roll from his tummy to his back but not the other way yet, he tries hard he gets about 3/4 of the way there and then flops back on his back again

)
Freddie has discovered Sesame Street and Bananas in Pyjamas in the last couple days and is a bit of a fan, he doesn't mind the Wiggles either.
I've included a few photos, some were taken a couple of months ago on our trip up to Ballina in July and one of our visit with my Pop. We're off to Ballina again in a couple of weeks for another visit with Poppy Alan, can't wait!!!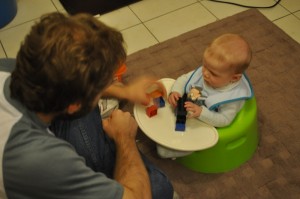 Daniel and I are both well. For those not already in the know Daniel is now a writer for Ausdroid you can check out his articles and reviews on the Ausdroid blog http://ausdroid.net he is loving it and has already posted 7 articles in his first week!! I am a very proud wife

)
Anyway better go I need to feed Freddie his pumpkin!! Will post again soon xx
24 Responses to "Freddie Update"