Yes Daniel, ok I'll do a blog update from me

)
Thought I'd tell you about my Pop's 90th. It was it late October and the Rummery clan descended on Glen Innes from all over the place.
The weekend started on the Saturday as everyone started to arrive, we had a family BBQ at Pop's place on the old brick BBQ that's up the back, hadn't been used in about 20 years but it still worked!!!
Sunday was Pop's birthday and we held a special birthday lunch for him up at the New England Club, it was a great day and my cousin and his wife organised a professional photographer to take some happy snaps!!
So here are a few, starting of course with the birthday boy himself…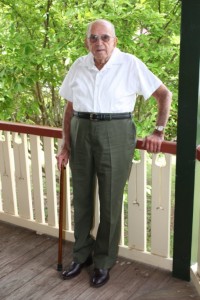 Then us with Pop….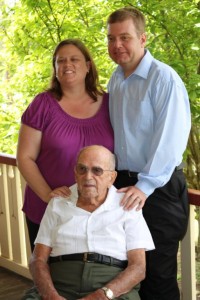 And I couldn't resist this one, 4 generations of Rummery's…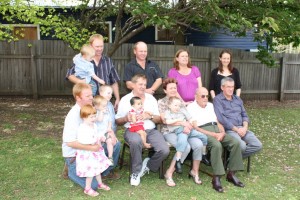 I can't help but point out the youngest cousin on my Uncle Phil's lap, little Kyle he was only 4 months old and soooooo cute!!!
So it was a lovely weekend, even if our accommodation was a little dodgy, we stayed in a very old, run down hotel, but it was next door to McDonald's and Daniel did the coffee run on they way back from his run one morning

)
So for more recent stuff, I am well, how can I not be, I have become a lady of leisure. My lovely husband does EVERYTHING, he cooks, cleans, does washing, he does everything

) I'm 25 weeks now and going strong, going for my glucose test next week, provided I don't forget, I've become some what forgetful!!
Next weekend we head up to Sydney on Saturday, we spend the night with good friends Gemma & Sam and we're going to the Bon Jovi Concert, YAY!!! I've been waiting all year for this concert and I promise to blog about it!!! Then on Sunday we head up to Ballina, can't wait to see everyone

)
So I think that enough rambling for now, I promise to try and update more regularly

)
32 Responses to "Adele's Update….. Finally"